Personal service , Expert advise & Amazing eyewear.
"The difference between us and other bigger companies is simple. We're not the same as other opticians; we provide a unique service that allows us to build a strong relationship with you. You'll see the same person every time you visit us too"
I'm Shyam,
the owner and optometrist at Style Eyes Opticians.
In 2012 when I took over the practice, I had a vision to provide a truly personalized eye care service.
Prior to 2012 I worked as a locum optometrist in over 100 practices. Through this I learnt that to provide the best eye care service we needed to take in to consideration your age, lifestyle, occupation and hobbies. By investing in the latest 3D diagnostic equipment and having my staff and myself trained to use the latest technologies and techniques we can offer you the most clinically advanced eye examination and the most accurately dispensed spectacles.
  I see the importance of treating each patient as true individual and not just another number and have created a place for you have a bespoke consultation tailored to you.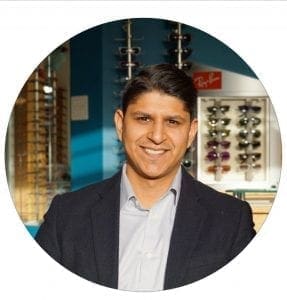 Shyam Divani
Practice owner Shyam Divani took over our warm and welcoming practice and injected a youthful approach to optical care. His expertise has helped the team to provide exceptional personalised services. Shyam's local roots and clear passion for eye care is mirrored throughout the team.
Our Team
The team aim to provide you with exceptional eye care from testing through to dispensing. Services include DVLA testing, contact lens assessments, a wide range of high fashion frames and thorough eye examinations both private and NHS.
As the go-to eye care and eyewear experts, our team is always happy to offer you professional advice. Whether you're looking for contact lens advice or you want to discuss your eye health, our team is always on hand.
Visit our practice today for a thorough eye examination and try on some of our fantastic frame ranges created by renowned eyewear designers.
Our Testimonials
Our clients praise us for our great results, personable service, expert knowledge and on-time delivery. Here are what just a few of them had to say
Book an Eye Test
Providing the local community with a high quality, personalised eye health service that really is all about you. We ensure that you're given an eye care experience like no other.